WHOLESALE BEACH DRESSES AND TUNICS
Essential in a seasonal beach shop, Coline's beach dresses and tunics are one size fits all or often in grouped sizes. Practical to combine choice and limited stock. 
We offer white crochet tops to wear over swimwear. What could be more feminine than a white lace tunic to wear after an afternoon at the beach? We have not forgotten the larger sizes with a wide range of loose fitting butterfly sleeve tunics.
The small shorts with flowery prints are a must in a beach shop. You can match them with plain cotton tops.
Our beach pareos are printed with original designs. The size is 180cm by 110cm. They are made of cotton or viscose. Sold wholesale in packs of 10 pieces in assorted colours. Some of our pareos match our swimwear. The beach pareos sold on our wholesale website are available immediately from our warehouses in France, and can be delivered within 48 hours.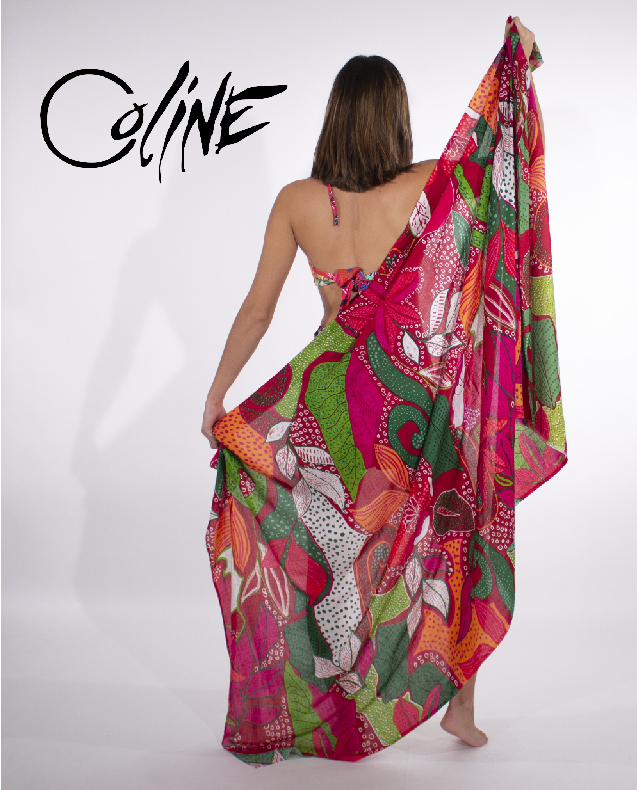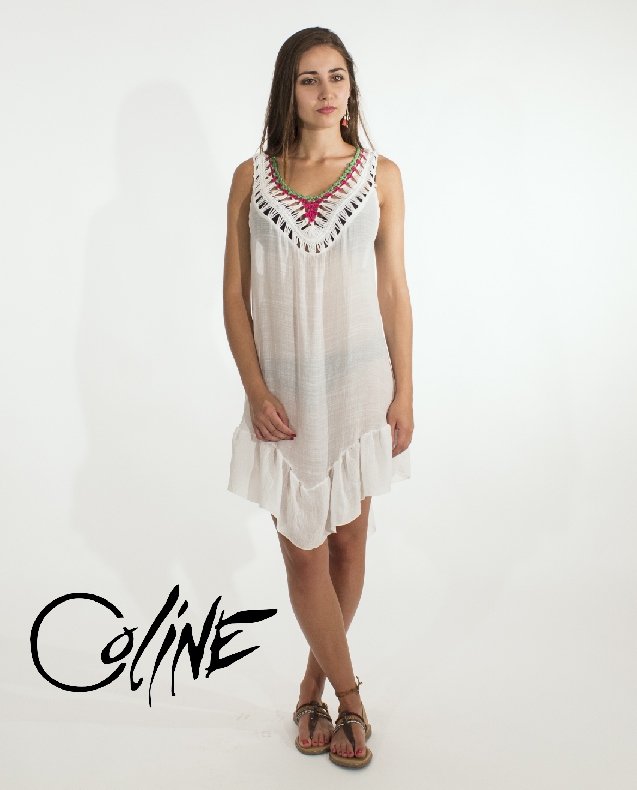 WHOLESALE WHITE BEACH TUNIC
Sheer beach tunics with a lace or crochet look are suitable for all ages and body types.
Wear over swimwear for the beach or over light cotton shorts.
Seasonal boutiques will carry these beach tunics throughout the summer.
WHOLESALE ROUND BEACH TOWEL COLINE
After pareos, sarongs and foutas, you will love the new beach accessory: the round beach towel.
They are made of cotton, bordered with fringes. Very important, the diameter is 180cm. This size allows you to lie down on the towel without having your legs on the sand. Original, aesthetic and innovative, these large round beach towels will be a hit in your shop! Buy them now! These pieces are in stock, available in France. You can order them on the website.
You can also use them as a tablecloth for a 120 cm diameter round table, which will leave a 40 cm border on each side.
For more information, please call our sales department on 0553200653.
WHOLESALE BEACHWEAR COLINE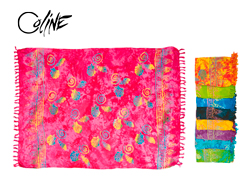 Our cotton pareos (or viscose sarongs) are printed with ethnic and exotic motifs. Some of them are specially designed for customers from Reunion Island, Guadeloupe, Martinique or Guyana. Others are stamped using the batik technique. We can personalise your pareos and sarongs according to your wishes, in which case please ask us about minimum orders.
WHOLESALE FOUTAS COTTON COLINE
Our cotton foutas are stored in our warehouses in France. They are made of pure cotton. We have a large choice of colours.
We can deliver quality foutas immediately at the best price.