COLINE WHOLESALE BOHEMIAN BABACOOL CLOTHING
Since 1987, we have been wholesalers in ethnic bohemian beach clothing. Our team of fashion designers create a large part of our collections. We work on materials such as cotton, viscose and polyester. Our original dress models, embroidered blouses, ethnic harem pants are offered at the best prices to retailers, and also exist in large sizes. Depending on the season, we add regularly the best products of the moment to our collections. 
BOHEME DRESSES SUMMER 2021 
This summer, our fashion designer team decided to showcase a collection of gypsy long dresses made from a fabric which has the same properties as silk. The catalog includes a wide choice of bohemian dresses at wholesale prices. What is more, our wholesale price tunics are also available in Indian sari fabrics. Ideal for large sizes, the bohemian tunics are available from S to 3XL.
WHOLESALE PLUS SIZE VISCOSE LINEN DRESS
The novelty of summer 2021, the dresses in LINEN and Viscose. They are loose with a wide choice of sizes from S to 3XL. With sleeves or sleeveless, you will choose according to the season. COLINE, the bohemian clothing wholesaler, offers you its dresses in several colours. Coral, raspberry, lime, pastel blue, emerald, fawn and of course black. Remember that all of these Linen and Viscose dresses are available in plus size. In addition to the dresses, we offer pants and Bermuda shorts in Linen viscose.
WHOLESALE NEPAL PATCHWORK JACKET
The winter 2020 collection consists of long printed chiffon dresses and printed patchwork dresses. Embroidered fleece jackets, ponchos and woven jackets will be your best sellers during the coldest weather. We have a large selection of Nepalese wholesale clothing.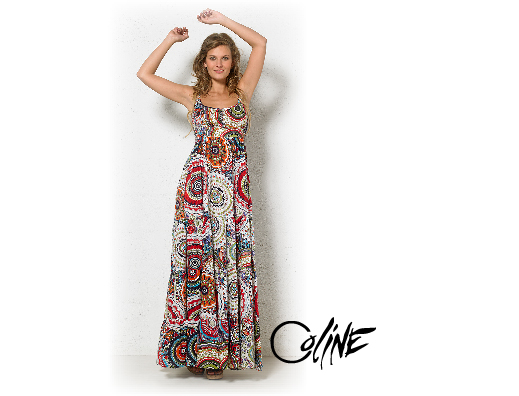 LONG BOHEMIAN DRESSES SUMMER 2020
The prints with cashmere patterns or small Indian flowers highlight the bohemian long dresses of the Coline 2020 collection. You can offer your customers models with small sleeves, wide straps or sunbathing. For beach shops, we recommend long, bare-back dresses. The vast majority of these dresses are in double sizing, S / M or L / XL, for better stock management.
PLAIN LINEN-BLEND DRESSES AND PANTS SUMMER 2020
It is because some of your clients are more classic or want prefer printed top with a plain bottom, that we have decided to launch a range of dresses, blouses, pants and Bermuda shorts in linen mixed with cotton this summer. A classic range of colors: navy, fawn, khaki. Another brighter, more summery, fresher color palette with coral, red and mint green.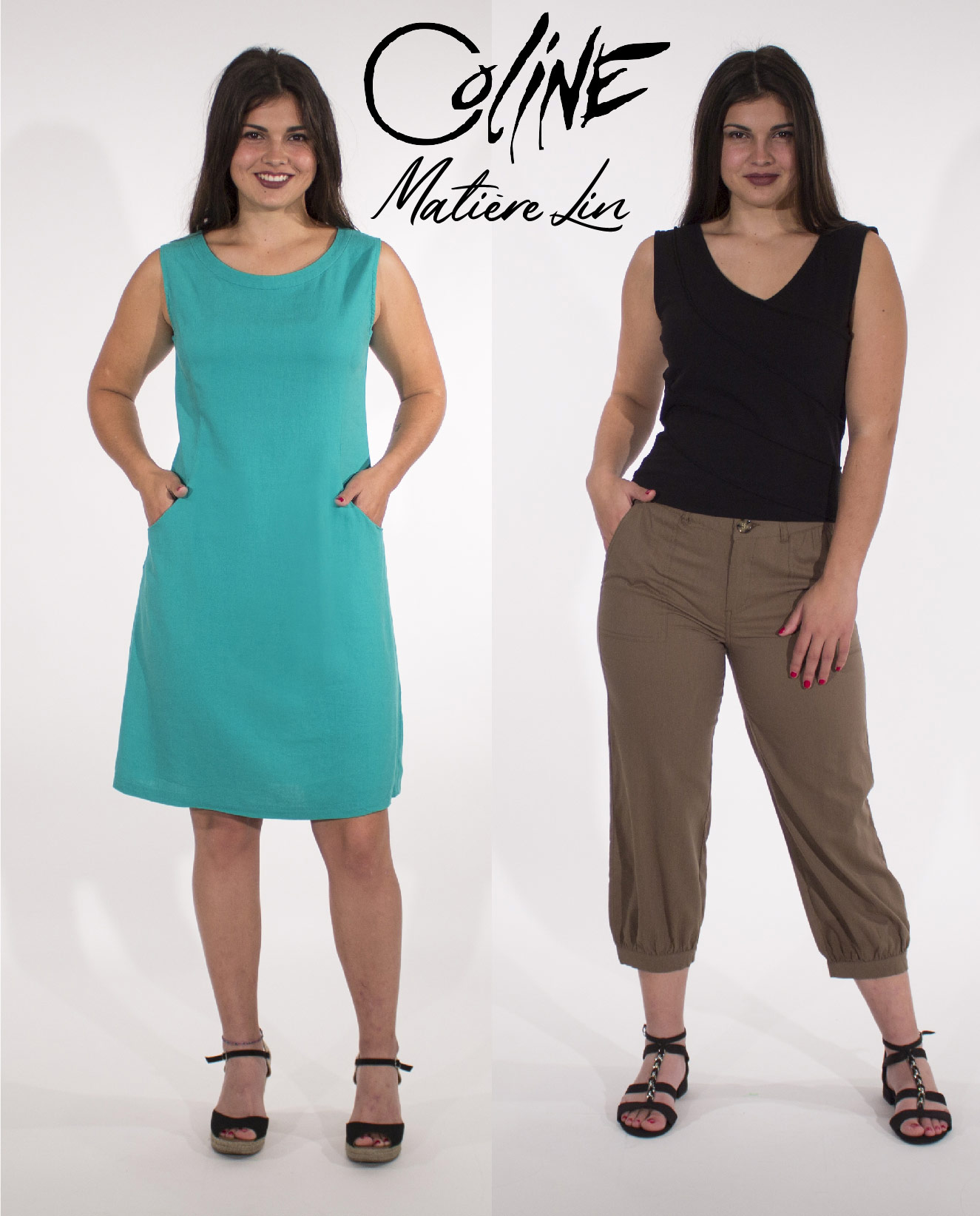 TROUSERS AND PRINTED DRESSES SUMMER 2020
Coline 2020 is a fantastic assortment of prints that will brighten up your store. We have drawn exotic patterns for sarongs and beachwear: shorts, mini dresses, and one-size-fits-all tunics.
The SUMMER 2019 collection has arrived at COLINE
ETHNIC AND BABACOOL DRESSES ARE STARRING IN THE SUMMER 2019 COLLECTION.
This extraordinary new collection is made up of light and loose dresses, 80s gypsy style dresses and floral print playsuits.
Our original t-shirts made of patchworks combine comfort and natural materials (cotton in particular). What is more, we have developed a range of dresses and jumpsuits made from fabrics made with traditional sarees. It is simply fantastic to touch it: it looks like silk!
New embroidered blouses have been added to our line of embroidered clothing. The wonderful embroidered medieval and romantic dresses of high quality and delicacy are permanently sold at incredible prices.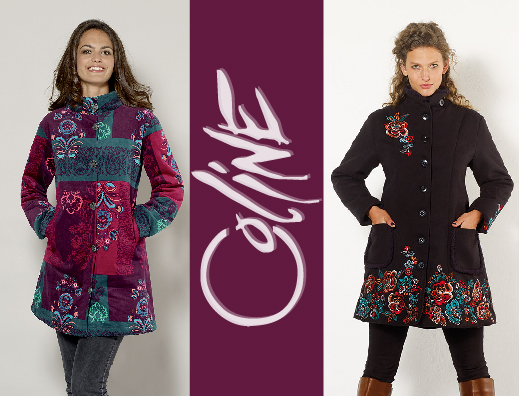 WHOLESALE FOULARDS WITH POMPOMS - SNOODS WITH ETHNIC PRINTS
It is made up of basic models, plain T-shirts or chunky knit sweaters with a poncho-style neckline. Another ethnic pieces are found in this collection: dresses and skirts in patchwork prints, embroidered blouses and of course harem pants and scarves.
This choice is completed with embroidered and printed coats and jackets with patch patterns.
All our models are available on the Coline.pro website.
An incredible value for money is ensured. You can count on an immediate resale and the satisfaction of your customers.
COLLECTION COLINE HIVER 2018-19
Novelties for the 2017 collection: scarves with square pompoms, in size 105x105 cm or 105x180 cm rectangles printed with magnificent patterns. We also offer SNOODS (or TUBE-shaped scarf - tube scarf) printed on the outside and cozy on the inside since they are lined with a soft lining.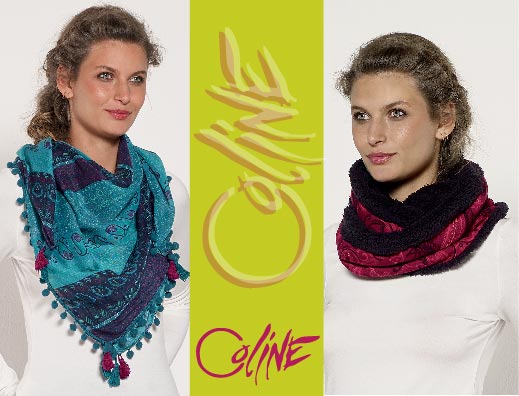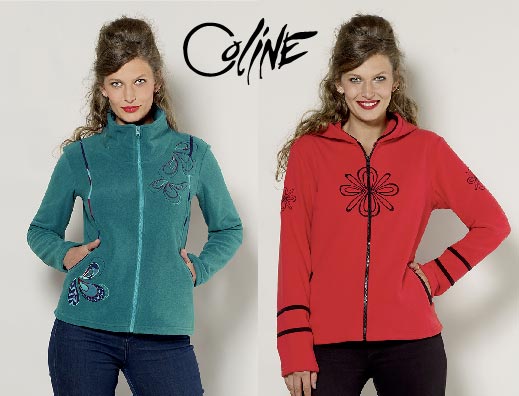 WHOLESALE COLINE EMBROIDERED FLEECE JACKETS
Like every year, we have developed a collection of embroidered fleece jackets. Lightweight and very warm, our fleece jackets and coats are extremely comfortable. Embroidered or patchwork, you will find the model that will make pleasure to all of your customers. Always at the best wholesale price, we offer our polar jackets in several styles: babacool with spiral-shaped embroidery with pointed hood, or flowers in applications, high collar for more "city" models.
WHOLESALE SAROUELS 3 IN 1 COLINE
Arrival of new 3 in 1 models
New 3 in 1 harem pants for women are available on our wholesale site. This model in high quality coton is the guarantee of the success in your shop.
New wholesale edition of 3 in 1 harem pants:
Since several years, this print has been a success of the Coline collections. We made it again for the satisfaction of your clients.
Our 3 in 1 sarouels can be transformed into a tunic and a combi-sarouel. They are one-size-fits-all models in cotton or viscose.
Lightweight, fluid, but not transparent, they will be one of the best sellers in your store. We offer a wide variety of prints.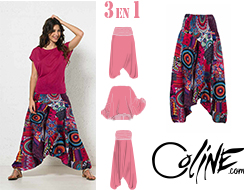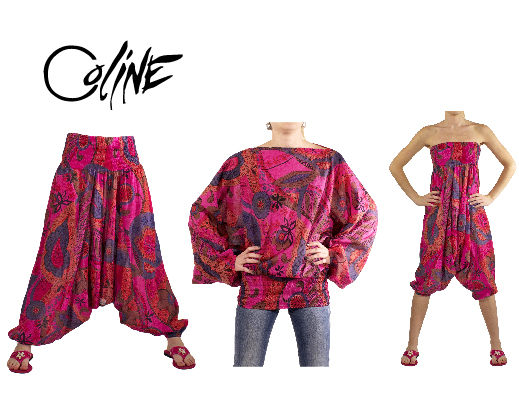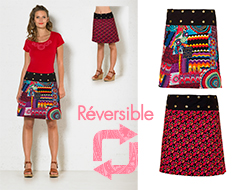 WHOLESALE REVERSIBLE PRESSURE-RIVET SKIRTS
New model arrival!
High summer is coming! We have just received several models of reversible skirts in new prints and with a beautiful print on each side. They are visible on our website for business customers.
Reversible skirts are available in two lengths:
the reversible mini-skirt with press-studs comes to the knees.
The longer version of the reversible skirt covers the knee. These skirts are adjustable. Whatever the size of your client, you can adapt it thanks to the numerous press-studs attached to the belt.
COLINE WHOLESALE MEN'S STRIPED ETHNIC COTTON SHIRTS
Our existing ethnic mandarin collar striped shirts in multiple stripe combinations, from size S to size 3XL.
In the same stripes, we import striped pants and cotton Nepalese striped harem pants.